Long Distance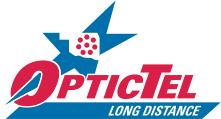 Oklahoma-owned service for our Oklahoma neighbors
Central Oklahoma Telephone Co. can bill long distance telephone service for and is a member company of OpticTel, an Oklahoma owned-and-operated long distance provider.
OpticTel features $0.10 per minute long distance 24 hours-a-day, 7 days-a-week from anywhere in the continental U.S. and can also offer money-saving "buckets of minutes" plans in a variety of increments!
Residential Unlimited Calling Plan: $25.00/month
Features and limits: For residential accounts only. Calls are only to the Continental United States. Calls to Alaska, Hawaii, and Canada are $0.20/minute. Calls are for voice-type traffic; plan can't be used for long-distance data traffic. No call detail is included on the bill, but it is available for an additional $2.50/month.
Residential Unlimited Calling Plan tariff filed with the Oklahoma Corporation Commission
Service




SILVER (Residence)

GOLD (Business)

All Direct Dial Calls



$0.10 per minute

Incremental Timing



60 second minimum/6 sec.


30 second minimum/6 sec.

800 Service

$0.12 per minute with volume discount
800 Volume Discount
(applies to 800 usage only)




$25.00-$49.99 = $0.11 per minute
$50.00-$99.99 = $0.10 per minute
$100.00 & over = $0.09 per minute

800 Incremental Timing



60 second minimum/6 sec.


30 second minimum/6 sec.

800 Monthly Charge Includes Call Detail



$3.00
No Monthly Charge

Account Codes



FREE
FREE

Travel Card



$0.22 per minute

Travel Card Timing



60 second minimum / 60 seconds

Subscription Line Charge



$4.95 for the first line, $2.50 each line thereafter

Call Detail Billing:

$2.50 per month
Buckets of Minutes Plans
| | | |
| --- | --- | --- |
| Minutes per Month | Monthly Charge | Additional Minutes Charge |
| 250 | $20.00 -- No Line Charge | $0.10 |
| 500 | $37.50 -- No Line Charge | $0.08 |
| 1000 | $70.00 -- No Line Charge | $0.08 |
| 2000 | $130.00 -- No Line Charge | $0.07 |
| 4000 | $240.00 -- No Line Charge | $0.06 |
| 6000 | $345.00 -- No Line Charge | $0.06 |